Facility Rentals and Weddings
A Background of Natural Beauty for Your Special Occasion
UUFSD sits on six acres of beautiful tall trees and flowering shrubs. We offer four rental spaces—the outdoor Amphitheater, Founders' Hall, Palmer Library, and the Kitchen/Terrace—each of different size and setup to accommodate the particular needs of your special occasion.
Outdoor Amphitheater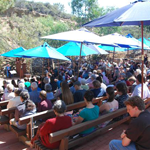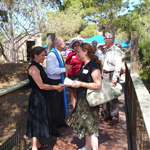 Our outdoor Amphitheater is a beautiful site, surrounded by sandstone cliffs, arching pines, and flowering shrubs. The facility seats 195 guests comfortably. Our excellent sound system adapts to live or recorded sound. A short winding path and bridge connect the Amphitheater to the other facilities.
Founders' Hall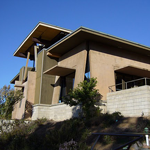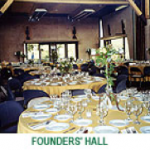 Founders' Hall is a dramatic building with west-facing ocean views. Approximately 122 guests can sit comfortably. This is the perfect location for an intimate ceremony or a formal sit-down dinner or luncheon.
Palmer Library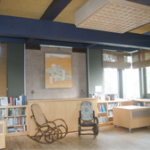 Palmer Library is a large open room that can be arranged to accommodate 20 people. Modular tables can be set up to fit your particular needs. Ideal for a small wedding, memorial service, or other intimate gathering, the library also serves as a bridal dressing room or "green room" for special events
Kitchen/Terrace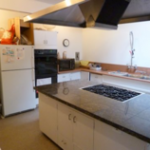 Our modern kitchen has ample space and restaurant-quality appliances to facilitate any meal that suits your needs. The adjacent brick terrace is a warm, welcoming area for informal receptions. The brick terrace between Founders' Hall and the kitchen is ideal for an outdoor reception. The terrace wraps around the kitchen building to an area with a retractable awning.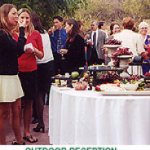 Reserving Space
Our facilities are available throughout the year depending on site and support staff availability. Renters are permitted to use tables and chairs at no extra cost. Tours are conducted by appointment only.
A wedding or other special event may be scheduled with generous time periods allowed, ranging from three to six hours, depending on the locations reserved.
To receive an application or reserve a date for your event, call the office administrator at 858-755-9225. Applications should be accompanied by a non-refundable $100 application fee. Upon acceptance, a $1,000 security deposit is necessary.
Fees
Printable image: Fee Schedule Revised 4-8-2022
Please call the office at 858-755-9225 with any pricing questions.

Additional Information
Enjoy dancing in either Founders' Hall or on the Terrace.
Our parking lot provides generous off-street parking and arrangements may be made with nearby facilities for overflow parking for larger events.
Due to our beautiful outdoor southern California setting, SMOKING is NOT PERMITTED except in the parking areas.