UUFSD Band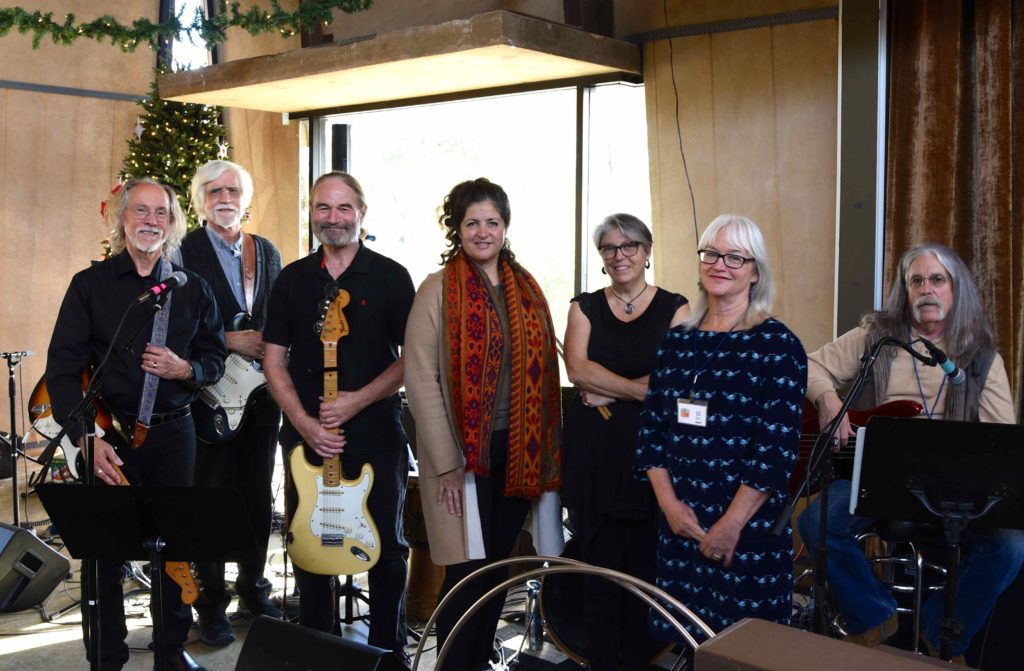 The UUFSD Band was born in 2013. It evolved from a group of folk music string players created by then choir director Andrea Newall. The band has honed its style to include folk rock, blues and Americana music, often choosing lesser known songs and arrangements and making them their own. They play about once per month on Sundays and make a special effort to find music that matches the message and tone of the worship services. They also offer an annual house concert to benefit the Fellowship.
Current Band Members
Jere Darling
After years as a guitarist, Jere (bass, vocals) picked up the bass in New York in the early 70s. His career as a bassist picked up speed in the 1990s when he joined Sassy Blue, followed by a stint of over twenty years in Blue Heat, for which he handled many of the lead vocals as well as playing bass. He regularly performs with local bands New Moon Drive (jazzy, bluesy rock) and Blues Farm (blues).

Susan Hahm
Susan (vocals) has always loved to sing. When she found her first UU church in Chicago 25 years ago, she joined something called the Un-choir.  She soon worked her way into the real choir, started lessons and began singing for a few friends' weddings/memorials. When she moved to San Diego in 1998, she immediately joined the UUFSD choir under Molly Low, and many of the small pop-up fellowship groups over the years to perform for Sunday services. In 1999 she joined Singchronicity, a 6 person a cappella group where she loves focusing on harmonies. She has recently started to pick up the guitar.
Cathy Leach-Phillips
Cathy (percussion, vocals, occasional flute) started singing up front at church at 3 years old.  She is a long time soprano with the UUFSD choir. Growing up her main instrument was flute. In college, she minored in music, which she modestly says "gave her enough ignorance to try new things musically." When the UUFSD band needed a percussionist, she bought a drum set and started taking lessons. She also plays percussion with the North Coast Symphony Orchestra.
Tom Packard
Tom (electric, acoustic, and occasional bass guitar) is the band's music historian. He has an entire bookcase full of music history books, with an entire shelf devoted to Bruce Springsteen. He bought his first guitar in 1963, before the Beatles came to America. Two high school bands played school dances and house parties; a band in college paid for 3 years of college, playing bars and high school dances; then he had been just noodling by himself for about 25 years; and recently playing some open bar jams. His favorite guitar styles are surf music, electric blues, folk rock, and rockabilly.
Greg Phillips
Greg (acoustic, electric, steel guitars, vocals, occasional bass & harmonica) brings his many musical, organizational, and technical talents to the UUFSD band. He writes musical charts for the band to create its own arrangements, keeps everything on track with the rehearsal schedule, and records rehearsals so the band can learn from listening to themselves. He is a songwriter, and participates in songwriting workshops and competitions. Greg, along with wife Cathy, host an annual house concert series called frogstop, featuring top notch local and international folk, roots, and Americana musicians.