Fellowship History
From Our Beginnings to Today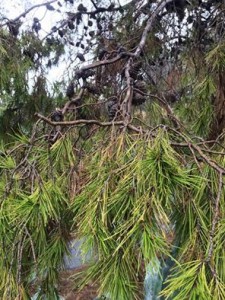 When you sit on the wooden benches in our outdoor amphitheater it's easy to imagine what it looked like when members first built the amphitheater, to create space for fellowship for Unitarian Universalists in north coastal San Diego. The same trees still shade our wooden bridge, spanning from our beloved brick and sculpture tiled pathway to the amphitheater. Nature provides the backdrop and serene scene for countless Sunday services, celebrations of life, bridging ceremonies, flower ceremonies, water celebrations, gun violence vigils, music festivals and so much more.
This is the land that was built with love. And a purpose.
We invite you to read about our very special history and its place in northern San Diego and the greater UU world.
Unitarian congregations came to this country with the early colonists, many of whom found a religion of reason, tolerance, and mutual respect for each other's beliefs appealing. Our Fellowship had its beginnings on a dark and stormy night in February 1959, or so the story goes. That night a group of forty-seven North County members of the First Unitarian Church of San Diego signed the register to become the founding members of the Unitarian Fellowship of San Dieguito, becoming "Unitarian Universalist" in the mid 1970s in recognition of the merger of the two denominations. Early members met in rented quarters for several years until they could afford to develop the seven-acre hillside campus donated by members Andy and Mary Kay. The site combines the peace and beauty of a natural setting with magnificent ocean views.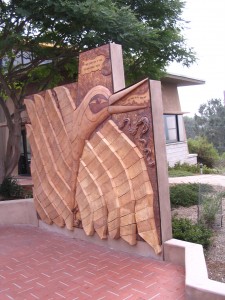 By 1964 volunteers had completed the outdoor amphitheater, designed by member and architect Bob (Gus) Thorburn, four classrooms, and a building that now houses the kitchen. All are still in use. In 1966 member Ira Spector designed the 40-foot long sand-cast wall defining the Fellowship's core area and built it with the help of Rev. John Shannon and many dedicated volunteers. The wall features UU values of truth, reason, justice, love, peace, honor, and virtue.
In the 1990's we embarked on an expanded building program. By 1997 this included two new buildings, new restrooms, a spacious office, and accessibility for physically handicapped people.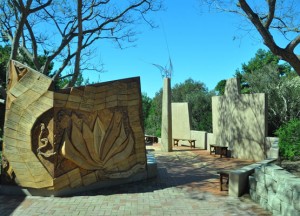 As we approached our first half-century, we addressed the long-cherished hope of building a memorial in the heart of the Fellowship. In 2007 UUFSD contracted with ceramic artist Gerald Thiebolt for its design and installation. By 2018 he had installed original murals on four of the five walls: AGAVE, BIRD, LOTUS, and CHALICE AND SUN. Between them a pathway of bricks hand-made by Fellowship members flows around the base of the obelisk topped by the James Hubbell sculpture "Remembrance."
You can learn more about dedicating a special tile to be engraved or reserved to memorialize members and their immediate families. The policies and process for donating, reserving, and selecting individual memorial tiles are described HERE.
For 25 years lay members were the source of leadership for all Fellowship programs. Retired Methodist minister John Shannon performed weddings and other pastoral functions. He offered sermons on Sunday mornings as did a wide variety of guest speakers. Members finally addressed the need for full-time professional ministry and in 1984 called Reverend Anne Felton Hines.
When Rev. Hines resigned after fifteen years of service, and following a two-year interim ministry, Rev. Dr. Kathy Fuson Hurt became our religious leader in 2001.Rev. Hurt served our Fellowship until 2006, at which time she responded to a call from another congregation. After a three year search, during which time we were served by interim ministers, the congregation called Rev. David Miller as settled minister in 2009 and he served until spring 2015. UUFSD welcomed Reverend Meghan Cefalu, who was selected by a special committee to join UUFSD as Interim Minister, and then as settled minister. Rev. Cefalu resigned in 2019 to leave parish ministry and begin a new chapter in individual spiritual counseling, and a search for a new settled minister began. After one year with our interim minister, Rev. Thomas Perchlik, we called Rev. Jo Ann Green to be our settled minister in 2020.
Volunteers led the Religious Exploration program until 1986, at which time the Fellowship started to hire part-time coordinators. In 1991 Cathy Schepps brought a professional approach to the job of Director of Religious Exploration. This program continued to thrive under the leadership of Darlene Kanzler, and later Jacinda Paschaol. In March of 2007, Alison McLeod was appointed Director of Religious Education. Alison directs an award winning RE program that extends into the community with social justice projects in the local community and across the border in Mexico. Recently nominated as San Diego Magazine Woman of the Year 2016, UUFSD is privileged to have Alison guide our children and young adults.
UUFSD was excited to announce the return of Christine Lehman in Summer 2016 as Music Director and Director of Special Music. Originally, Molly Low, a long time member with extensive musical training, built an excellent music program during her years of service as Music Director. Professional Music Director Sally Hirsch Dean built on this foundation between 2002 and 2009. Christine Lehman first served as Music Director in 2010. Gianna Drogheo, who was Music Director from 2011-2012, added the youth choir. Jill Reis joined us in 2013 until she left to pursue graduate work in music pedagogy in spring 2016. We enjoy an outstanding choir, house band and a wide variety of special music. Additionally, Coastal Concerts is an annual concert series that has provided our community with an eclectic mix of music from jazz to classical, and from folk to opera.
In addition to Sunday services, we offer our adults a broad range of programs: Sunday Morning Forum, Buddhist Meditation groups, Mens' Groups, spiritual development groups known as Sacred Circles, book clubs, and others. Our Social Justice Action team provides a wide range of opportunities for members to serve the larger community. The congregation is involved in community service activities including a monthly "Generosity Sunday" recipient and a weekly food collection as part of the Sunday service.
We at the Unitarian Universalist Fellowship of San Dieguito look forward to new opportunities for service, for intellectual and spiritual growth, and for the richness that new people with diverse experiences, views and talents will bring to our community.