RE Director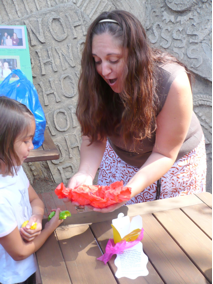 Alison Aguilar Lopez Gutierrez McLeod has been serving this congregation since March 2007. She was born and raised Unitarian Universalist and has experienced Unitarianism in congregations across the country, including at All Souls in Washington D.C., UU's of the Palouse in Moscow, Idaho, and First Church in San Diego.
While earning her Masters of Education and Bachelors at Washington State University, Alison served as an elected official (the first Mexicana) on the City Council of Pullman, Washington. Her service was continued as a teacher for Eclipse Alternative High School, YWCA interim director, and as a JV tennis coach to the local high school. Alison is most proud of the work she accomplished while serving on numerous boards for organizations that addressed issues faced by women of color, civil rights and social justice. She continued that work across the country working for various non profits that focused on youth and child empowerment through community involvement and reaching beyond social and economical constraints. Directly before coming to UUFSD, Alison served for three years as a Disaster Response and Recovery coordinator for the 2003 Wildfires. Her service to others was recognized recently with an honor as a finalist for San Diego Woman of the Year Award in 2016, nominated by some of our congregation members.
Alison is thrilled to be a part of the UUFSD "family" as she calls it. A congregation that encourages and empowers children to find their own religious paths. She endeavors to provide a well-rounded liberal religious education for our children in an environment where they feel safe, accepted, respected and heard. Alison develops remarkable, special connections with our children, youth and emerging adults, encouraging them to grow spiritually, develop a sense of personal and social responsibility and experience joy as a central part of a loving Unitarian Universalist community.