Capital Campaign – Filling Up & Flowing Over
"The UUFSD Capital Campaign needs your help to fund sustainable enhancements to our campus that will create a future we can all believe in."
Your commitment to fund will greatly help us on our Campaign. Please complete the forms below and send it back to dreamfunders@uufsd.org
Click HERE to download Capital Campaign Commitment Form
Click HERE to download Authorization Form
Capital Campaign video with focus on our young people:

A drone's eye view of the new UUFSD campus envisioned by the Master Plan for our Capital Improvements:

Watch our capital campaign video from Sunday, July 19.

Four years ago, we began the Dream Catchers process and took the first, bold step on the path that will lead us to our new spiritual home. Historically, such a journey might have required a religious congregation to make passage across an ocean or a continent. But those who found a spiritual home upon first setting foot at UUFSD know ours is a path that begins and ends in the very same place, right here on this beautiful campus we all adore.
But even when the foundation of love is solid, cracks can appear in far less substantial foundations of asphalt and concrete. Even when the desire to feed hungry mouths and nourish hungry souls burns within us, making that happen with four burners on an old stove can feel like working miracles. Much of the existing UUFSD campus is reaching the limit of its design life, while other areas struggle to meet the capacity of our growing congregation. A congregation full to the rafters and bursting at the seams is a happy congregation, but it's a cramped congregation.
The UUFSD Capital Campaign needs your help to fund sustainable enhancements to our campus that will create a future we can all believe in. We've invited our partners at Domus Studio Architecture to create preliminary designs for how we might expand our so-called rafters and shore up our seams in a way that respects both one another and the planet. Their vision is the direct result of both the UUFSD Strategic Plan and the proposal created by our congregation's Dream Builders, as well as the input provided by all of you.
The improvements will include increased office and program spaces, a more attractive and functional amphitheater, an upgrade to our core meeting area and increased parking. We want to do everything from improved acoustics and shade cover to address critical safety and capacity issues for classrooms and other spaces. The natural setting and bucolic nature of the current buildings and grounds are an asset and should be preserved in any new construction. Just as a fertile soil is needed for our native chaparral to flourish, having a campus that meets our physical needs is necessary for us to flourish in spirit and influence.
Working together, we can assure that our fellowship is a safe, accessible place for our children and our respected elders, a place that takes into account people with all needs, be it the need for wheelchair access or the need to stay out of the sun during services. Working together, we can improve the spaces we use to nourish one another, whether that's through a kind word or a warm meal.
This is our chance, here and now, to build our legacy from the ground up, while taking care not to tread too heavily on the earth with our own footprint, nor trample on the footprints that our elders, our founders, have left before us.
The hopes and aspirations we've defined as a congregation in our Strategic Plan are the signposts along our path, guiding us toward our own imaginations. We're encouraging the Fellowship to make real the vision that for four years, we've only been able to dream about… make it into something we can touch and sit inside and admire, as well as a legacy we will all be able to call our own.
CAMPAIGN NEWSLETTER ARTICLES
[Editor's Note:
These newsletters dating from 2015-16 give an historical view into the Capital Campaign, but some references are now out of date or changed. As one example, the aspects of the Capital Campaign that relate to our four classroom buildings have been completed, and our classrooms are now modern, beautiful, and safe. This refurbishment also allowed us to renegotiate our weekday-use agreement with Sandy Hill Nursery School and receive a considerably higher rent. Bathroom renovations and some Founders' Hall improvements are also complete.]
Parking Spaces Galore! • June 12, 2015

In each of the coming weeks we'll review a different element of the blueprint for our future: Our Master Plan. . We'll start with our parking lot, since it is the first part of our campus that a visitor encounters. To paraphrase Board President Lisa Shaffer, if we're going to bring more UUs into the world, they're going to need a place to park.
For years, members of the congregation have complained about inadequate parking , and for good reason. Our parking lot fills quickly for our more popular services, leaving those who arrive just on time (or a bit after) frustrated at having to park in a distant lot and walk to the fellowship. This is more problematic for those a bit less hardy than others. Imagine the number of potential members we may have lost when, as first time visitors, they couldn't find a place to park in our lot. Let's take a look at an excellent solution: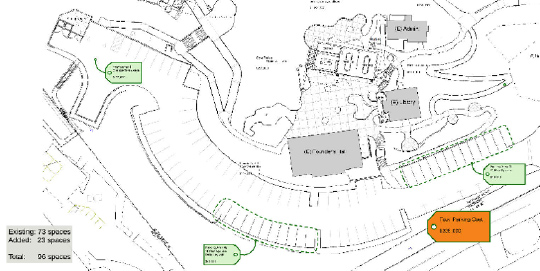 Our Master Plan calls for 23 new spaces (outlined with dashed green lines), an increase of 31% above current levels! From my experience as your parking lot attendant, I can tell you that only a very few services during the year – such as Easter, Christmas Eve, and Coming of Age — might not be accommodated by these extra spaces.
The first step for a comfortable worship experience is finding a parking space, and our new Master Plan goes a long way in satisfying that need. The price tags are reasonable: the extra spaces plus the storage space at the end, with the "hammerhead" for turning around, is $335,000, or only about 10% of the total cost of the Master Plan.
More next week, on the amphitheater.
John Sherman, Chair, Capital Campaign Task Force • Tiffany Fox, Communications Chair, Capital Campaign Task Force
From the Parking Lot to the Amphitheater • June 19, 2015
Increasing membership at UUFSD, is one of the chief motivations for our Capital Campaign, and our UUA consultant has emphasized that achieving this goal begins with making a striking first impression. Did you know that visitors make up their minds about how much they like a place of worship within the first ten minutes of their first visit? We have to get it right from the moment they set foot on our campus.
In last week's newsletter article we focused on how the improved parking experience promised by the Master Plan will start the new visitor off with a comfortable feeling (and make life easier for everyone). Now let's consider how an enhanced amphitheater will create a warm welcome for both visitors and those of us who consider UUFSD our spiritual home.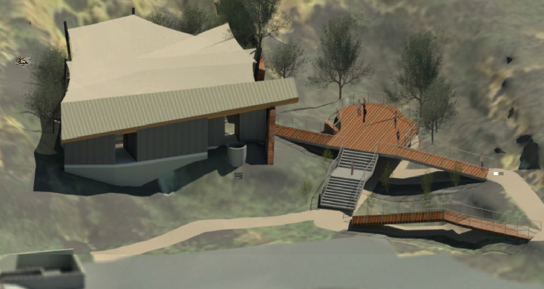 Note the new shortcut stairway and the large gathering space outside the amphitheater entrance, which will allow congregants to both admire the natural setting and greet one another without creating a bottleneck. Wider paths will also reduce foot traffic jams, allowing three people to walk next to each other. From this overview you can see the back of the kiosk (the building atop the amphitheater) as well.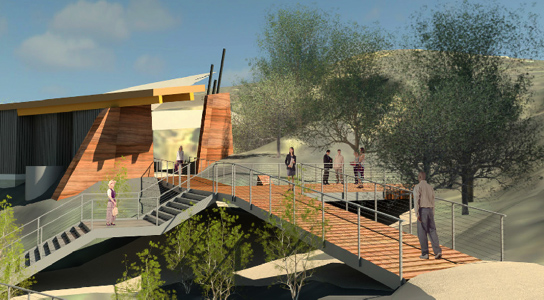 In this ground-level view we see the entrance to the amphitheater. Note the water-capture container behind the entrance wall. Also note that the amphitheater itself is hidden until you pass through the portal, creating an element of anticipation and surprise and a feeling of reverence..
Next week we will enter the amphitheater, discuss the new kiosk, shade sails, and other new features of this unique element of our campus.
John Sherman, Chair – Capital Campaign Task Force • Tiffany Fox, Communications Chair – Capital Campaign Task Force
Into the Amphitheater • June 26, 2015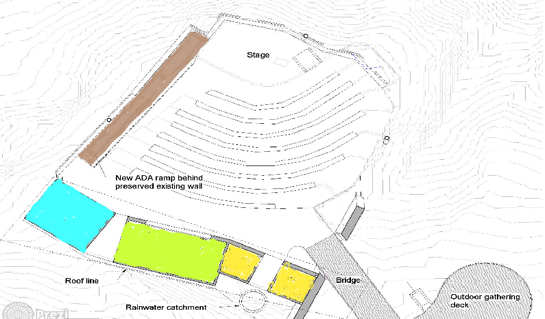 From week to week we've been looking more in-depth at individual improvements to our campus promised by our Master Plan. Here we see an overview of the upgraded amphitheater.
The additions to the kiosk will enhance the Sunday worship experience and provide more opportunities for concerts, weddings, and other affairs that can bring additional funds to the congregation. The two new bathrooms (Yellow) will be most welcome to all who, when nature calls, now have to trudge more than 200 yards to the bathrooms under the library. The new AV area (Light Green), with its upgraded equipment, will not only make it easier for our technicians to enhance the sound quality at our our services and also at other events we may hold. The Brides Room (Turquoise) can be used for wedding preparations or taking a break between performances, and is another addition that will make our amphitheater more attractive for concerts and weddings.
The path down the west side of the amphitheater (Light Brown) will be fully ADA compliant, and upgraded with new lighting and improvements to the pavement (not seen here)..
The permanent shade-cover means no more constant shifting of position, by many of us, to avoid the sun. The design will still enable us to see the sky and hillside, protecting the unique ambiance of our natural setting.
John Sherman, Chair Capital Campaign Task Force • Tiffany Fox, Communications Chair, Capital Campaign Task Force
Capital Improvement News • July 5, 2015

In the past few weeks, we've covered all the benefits we will derive from the improvements to our campus' parking area, ramps to the amphitheater, and the amphitheater itself. Today we will discuss campus refurbishments and an updated schedule for our capital campaign.
Refurbishments
Although they are outside the scope of the architect's design of our Master Plans, the campus refurbishment projects (which include our classrooms and the YRUU building) are very much part of our overall capital improvement plan. The first classroom to be upgraded will be Tree Tops. Here is a partial list of what will be done there
The existing exterior plywood siding and fiberglass sheets will be removed, discarded, and replaced by stucco the same color as Founders' Hall.
Rotted or termite-damaged plates and studs will be removed and replaced.
All electrical circuits in walls will be brought up to code, and AV features and computer wiring will be added while the walls are open.
Existing doors and windows will be removed and replaced with new dual-glazed tempered doors/windows.
New roofing will be installed. We will refurbish the buildings, one at a time, to cause minimum disruption to the children's classes. While a classroom is undergoing work, Founders' Hall will serve as temporary classroom during the week.
New schedule
We seem to have fallen victim to the usual summer slowdown: attendance is generally lower, the new Board won't meet until late August (when our new minister arrives), and our sound system in Founders' Hall is broken and likely won't be fixed until near the end of July. That puts on hold our plan to show a series of video interviews featuring members of the congregation as part of our communications campaign leading up to the capital campaign Financial Feasibility Study (FFS). This study will be be conducted by our UUA consultant and include about 35 members of UUFSD.
We have therefore decided, with agreement from our consultant, to push back the FFS to mid-October, after people return from summer break. An extra benefit of this will be having Rev. Meghan here promoting the CC enthusiastically as we head into the FFS. Delaying a bit will maximize our chance of success.
John Sherman, Chair – Capital Campaign Task Force • Tiffany Fox, Communications Chair – Capital Campaign Task Force
We are the Dream Funders • August 14, 2015

Following in the tradition of the Dream Catchers and the Dream Builders, we on the Capital
Campaign Task Force have decided to rename ourselves the Dream Funders Task Force. It's a way of building an "arc of continuity," where even our name reflects our commitment to seeing our dreams become reality.
As we approach the end of our summer and will be soon welcoming our new interim minister, Rev. Meghan, it is a good time to review the current schedule of Dream Funder events.
1. We will, hopefully within the next two weeks, begin work on our classroom refurbishments. These are a very important part of our capital improvements, even though they are outside the elements within the Master Plan. The first classroom to be refurbished is Tree Tops. We will then proceed to renovate the other classrooms one at a time, with the Sandy Hill students using Founders' Hall during the week their classroom is being worked on.
2. Now that the Master Plan is complete, we will meet with our immediate neighbors to inform them of the planned improvements and then send to Solana Beach an application for the Conditional Use Permit (C.U.P) covering the Master Plan. Typically, approval takes from eight to 12 months. We would like to get started sooner, but such is life in a world of regulations. In the interim, we'll be fixing up the classrooms and raising the money for the larger project.
3. In September, about 35 of you will receive invitations to participate in a Financial Feasibility Study (FFS), which will be a conversation with our UUA Stewardship consultant. By this time, you will have received our Dream Funder brochure, detailing the elements of our Master Plan and its cost. Our consultant will be talking with us to determine the level of enthusiasm and commitment for moving forward with the funding of the Plan. These 35 individuals represent as diverse a cross-section of the Fellowship as we could determine, including varying levels of pledges, participation in various campus activities, and length of membership. It is designed to measure — as accurately a statistical subset can — our readiness to embark on the funding of the Plan. The actual FFS will occur over five days, October 14-18. More details as to time and place will be forthcoming.
4. The consultant will report the results of the FFS to the Dream Funders team by the end of October. If it's a "GO," then we'll begin the first portion of the Dream Funders effort, aimed at engaging larger donors,in November, sometime before Thanksgiving.
5. The general funding effort for the entire congregation will begin in January, and will include the annual pledge drive.
Best Regards,
John Sherman, Chair – Capital Campaign Task Force • Tiffany Fox, Communications Chair – Capital Campaign Task Force
Enhancing Founders' Hall • September 4, 2015

This week we pick up our newsletter article covering various elements of the capital improvements contained in our Master Plan. Earlier newsletters have convered the parking lot and amphitheater, and we now move to Founders' Hall (FH) and the core area.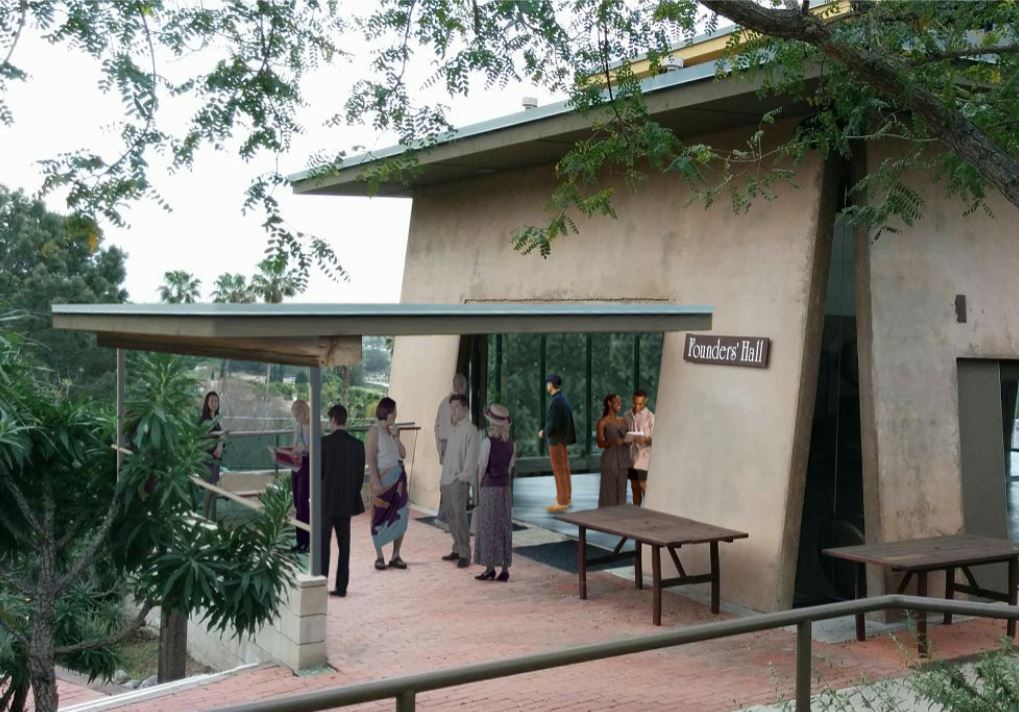 The patio cover, and plexiglass protection from the wind, will make the pation much more useful, in inclement weather or under the hot sun, and make it an excellent extension for extra seating during services.
Next week we'll talk about the expanded core area and new administration building, which will provide meeting space that will be needed as we grow.
Upcoming in the new few weeks: We will be sending out the beautiful Dream Funders brochure to every member and pledging friend in the Fellowship, and will also be sending invitations to about 30-35 of you to participate in a Financial Feasibility Study with our UUA consultant. We have done our best to select those who represent the Fellowship across our range of ages, interests, participation in activities, and financial contributions, with the intent of determining how much money we will be able to raise to fund our dreams.
John Sherman, Chair – Capital Campaign Task Force • Tiffany Fox, Communications Chair – Capital Campaign Task Force
Final Stop on the Master Plan Campus Tour • September 11, 2015

Over the summer we've toured the campus through the eyes of our vision for the UUFSD of tomorrow, following completion of all the capital improvements we are planning.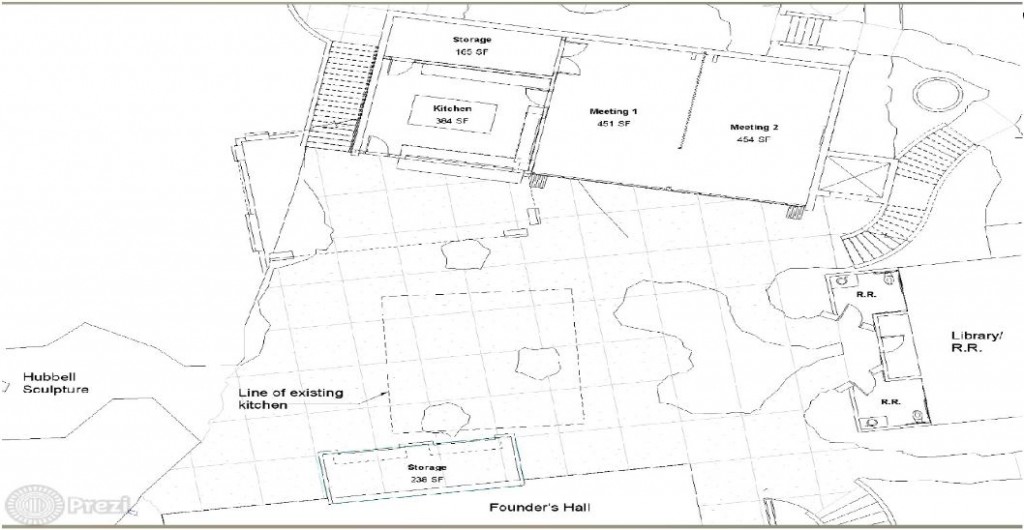 At the bottom we see additional storage area for Founders' Hall, which will be very helpful for storing those items we traditionally use in services, but now have to move back and forth from other locations, like the AV control system.
The big change is moving the kitchen out of the core area into the new administration building. The location of Palmer library on this diagram shows how much larger our core area will be, for gatherings after service and parties.
Along with the two bathrooms currently at the south end of the library, two new restrooms will be added on the west side. These, along with the restrooms at the top of the amphitheater, will increase the number of our restrooms on campus from our current two to six!
And finally, we see the new administration building, with upstairs offices, an elevator you see on the east side, and the meeting space that our expected growth will require. For past newsletters please see them, in chronological order, on our UUFSD website, under facilities/dream funders.
John Sherman, Chair – Dream Funders Task Force
Caroline DeMar – Dream Funders Task Force
The First Phase of Our Capital Improvements • October, 2015

By now, we expect that you've all received the Capital Campaign brochure, and hope that you are filled with the same excitement for what we can achieve for our future as the members of Dream Builders and Dream Funders are feeling.
But the brochure deals primarily with the Master Plan for our campus, as defined by Dream Builders and our architect, DomusStudio Architecture, dividing that Plan into Phase 1 and Phase 2, and speaks only lightly of our true first phase, the repairs of our classrooms.
We believe in the words from the song Take Care of Your House, by Alan Lerner and Leonard Bernstein:
Care for this house
Shine it by hand
And keep it so clean
The glow can be seen
All over this land.
Unfortunately, we have done too little in living up to those words, but we are correcting that now, by commencing with sorely needed repairs to our Treetops, Footprints and Pinecones classrooms, and the YRUU building. These are not part of the Master Plan because they fall more in the line of repairs to roofs, windows, siding, fixing termite damage and rot. Here is an example, from Footprints: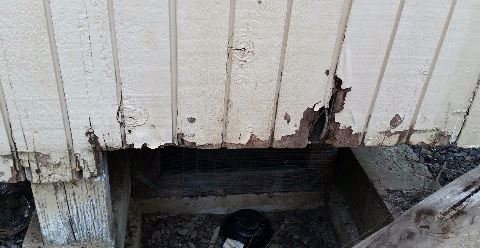 Now that we finally have the money to tackle these needed repairs, from generous contributions already made to our capital improvements campaign, we are going ahead with sprucing up these four buildings. Treetops is first, and we expect it will be finished by about the end of November.
The process is slower than it might normally be, but we are cooperating with Sandy Hill to work around the students so they may continue to use one portion of the classroom while we work on another. Although it slows down the process a bit, the convenience for both Sandy Hill and the fellowship outweighs having Sandy Hill taking up space in Founders Hall, and the clutter it would incur.
During the time of our raising the funds for the Master Plan, and waiting for Solana Beach to approve our application for the C.U.P. (Conditional Use Permit), we will get this job completed.
John Sherman, Chair – Capital Campaign Task Force
Financial Feasibility Study Report • October, 2015

Please click here to view the financial feasability study report.
We're almost there • January 8, 2016

This Sunday will mark the beginning of our general campaign to Fund and Build our Future. And we're already off to a very good start, with almost $1 Million already committed to maintain and enhance our beloved campus. Ben Platnik referred to the Fellowship as "sacred ground" in the recent "Decades" service, and we agree. Let's make sure we show our love by supporting the capital improvement campaign.
The campus improvement program has actually been ongoing since 2011, when we were challenged with a three-year matching grant from a beloved member, Caroline Demar. And boy did that light the fire under us! We met the match and more. And now our plans are in place and we're moving forward. Through much congregational dialog, we identified six priorities: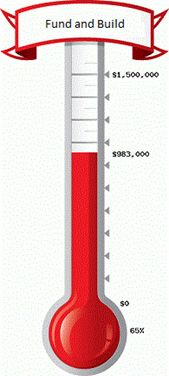 Permanent amphitheater shading
Additional bathrooms at the amphitheater
More parking spaces
Additional seating for services
Additional meeting rooms
New office space for staff
The proposed first phase of the campaign will enable us to address all six. All we need is your support. The Lead Gift campaign, in addition to earlier contributions, brought us to almost $1 million, and we're 65% of the way to our goal..
We can meet our goal and make our dreams come true if we receive commitments to the capital campaign at least equal to your annual pledge in each of the next three years. Whether you pay it at once, or over the next three years, this is your once-in-a-generation opportunity to pay it forward, making sure that our campus can provide the needed infrastructure for our mission of making a better world, standing on the side of Love.
We're almost 65% of the way to our goal. Let the campaign begin!
John Sherman, Chair – Dream Funders Task Force
Lisa Shaffer, Dream Funders Task Force
For more information please see this month's Quarterly Magazine article on our website:
https://uufsd.org/wp/wp-content/uploads/2011/09/Jan_2016_Mag.pdf
It's a Long Walk • January 15, 2016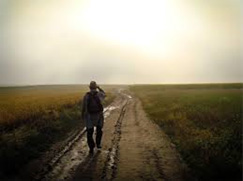 This week's brief talk, for our campaign to Fund and Build our Future, will be by Rigdon Currie, and the topic will be the upgraded kiosk and bathrooms at the top of the amphitheater. When nature calls, and the older we get the more urgent the call becomes, it must be answered. During a service, this means a 260 yard (more than 1/7 mile) round trip from the top of the amphitheater to the bathrooms under the library, and back! Is it any wonder that those who leave a service to answer nature's call sometimes don't bother to return, but just hang around the core area waiting for the rest of us?
The two bathrooms at the new kiosk will be a most welcome addition, and the new kiosk will also have a space for an audio/visual room, a bridal changing room (which would make the amphitheater more attractive for rentals), solar panels on the roof, and a water collection system. Of course how many of these we are able to do will depend, as such things always do, on the amount of money we raise.
The Dream Builders team is analyzing the total costs for all of the elements in our current Phase I. Please see last week's newsletter, or the whiteboard on Sunday, or the recent Quarterly Magazine article on our website for a list of these elements. (See https://uufsd.org/wp/wp-content/uploads/2011/09/Jan_2016_Mag.pdf).
Our best estimates for these costs will be included in the ballot we will provide, at the end of the campaign, for all of us to prioritize the order in which we tackle the construction of the elements. We would love to do all six at once. It's up to all of us to make it happen. If each of us, at minimum, matches their annual pledge for three years, we will certainly be able to Fund and Build our Future.
John Sherman, Chair – Dream Funders Task Force
John Atcheson, Chair – Dream Builders Task Force
From Chaos to Harmony • January 21, 2016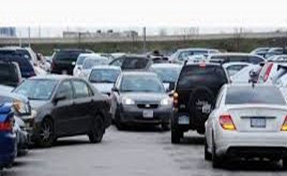 Perhaps the picture to the right is a bit of an exaggeration to get your attention, but it is not an exaggeration to say that, for the second service on most Sundays, we have too few parking spaces to satisfy our need, and the problem is getting worse. Rev. Meghan, being a superb speaker who people want to hear, is a joy for the entire congregation, but the demand she is helping to create is putting new pressure on our parking lot.
It saddens me when someone pulls up after I've put the Parking Lot Full sign out, and says "I need a cane to walk. Can't I find a place?" Then I have to say that the lot, including the two Handicap spaces, is full, and direct the person to the Montessori lot. I may not see them at the service, as they might decide to give up and go home. What about a couple visiting for the first time? After I explain that the lot is full, they ask "Where do we go?" I tell them, hoping they will make the extra effort, but knowing that some will give up and perhaps never return.
The parking lot is the very first contact a visitor has with our Fellowship, and if just getting to the service is difficult, some might decide that the hassle isn't worth it. Sufficient parking is critically important to our being able to grow.
Fortunately, we do have a solution! Our Phase 1 Capital Improvements plan includes 23 new parking spaces in the main lot – 11 on one side and 12 on the other. I can honestly tell you that, at this time, if we had 23 more spaces, the lot would not be full for the great majority of services. Of course there will still be the Bridging service, and the Flower Communion service, and perhaps a few others, that might fill it, but the full lot would become a rare, rather than usual, occurrence.
This Sunday's speaker on the parking lot portion of our campaign to Fund and Build our Future is Dale Goddank, whose current condition makes available parking a necessity. I hope you can all attend one of the services to hear Dale's brief talk.
A brief side-note on the capital campaign: On January 31, we will begin to host a table with commitment forms for the campaign, and these forms will also be on the website. Before the completion of the campaign, we will mail, to every member and pledging friend, the commitment form, along with the survey form for us to prioritize the six elements of the Phase 1 plan. We are finalizing the costs of these elements, so we can provide them as part of that survey.
John Sherman, Chair – Dream Funders (and parking lot attendant)
Relieving the pressure • January 31, 2016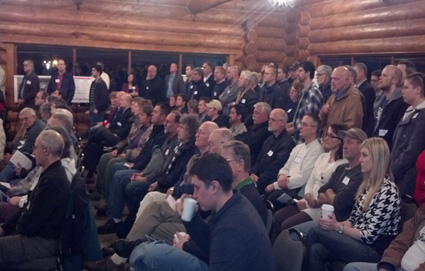 Standing room only is what we're headed for in Founders Hall, unless we can find a way to add more seats. And your Dream Builders team has done just that! One of the six elements of the new Phase 1 is adding more seating, for overflow services, by adding a roof and glass enclosure, for protection against the elements, and a new set of doors into Founders Hall that allows easy sightlines to a speaker at the podium, or a musician at a concert. Take a look at the new design.
We estimate that 4 rows of 12 chairs will comfortably fit in this space, adding 48 more seats, when needed.
Alana Schuler, an experienced usher who has had to deal with helping people find seats at packed services, will be speaking this Sunday on this important element within our campaign to Fund and Build our Future.
This Sunday, during the Congregational meeting after the service, we will briefly review the six elements of the new Phase 1 plan, tell you what's coming as we head into the final two weeks of the campaign, and answer any questions that you may have.
The members of Dream Funders and Dream Builders are looking forward to seeing you all at the congregational meeting.
John Sherman, Chair – Dream Funders Task Force
More Meeting Spaces • February 5, 2016

"Hi Tracey, is the library available for next Wednesday at 5:00?"
"No? How about 7:00? ….Thursday? ….OK, can we use Rev. Meghan's office either night?"
(Curse muttered under the breath) "Well, how about Founders' Hall? ….Some group of ten or twelve folks have that? Well that's a waste of space!"
And so it goes, as committee chairs try to line up meeting space, and sometimes have to use someone's home because nothing is available. As our Fellowship grows, and we hope it does, this situation will just get worse.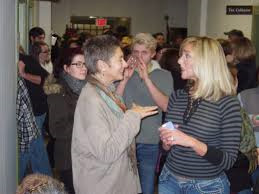 But wait! We have a partial solution! The great majority of meetings in Founders' Hall (FH) are held by groups that need much less than half of the space. Element #5 on the list of desired goals of our campaign to Fund and Build our Future is a soundproof partition in the Hall that can be pulled out to create two meeting spaces, when needed. Since we currently have only three spaces available: the library, Meghan's office (when she's not using it herself), and FH, this will increase the number of available spaces by a third! Linda Pratt, who has fought the fight for meeting space in the past, will be this Sunday's speaker on this important benefit our capital improvements will bring to our campus.
Remember that, while we will be sending them out by regular mail in about a week, you can find the commitment form, and an automatic account-withdrawal form on the UUFSD website under News and Announcements, and a new video we commissioned. Here's the link to the video: https://www.youtube.com/watch?v=Nrj4Z-x0tqs
Finally, a thought from me about getting the most for your charitable dollar. It's been in the news recently that a well-known charity is receiving heavy criticism because 40% of donated dollars go towards social gatherings and salaries, including the CEO receiving a salary last year of $496,000, rather than to those for whom the money is donated, . Even when you give to a large charity with an excellent reputation for keeping administrative expenses low, you know that, while your money is going for good works, you don't personally see exactly how it's being used.
But in our campaign, the salaries of your Dream Funders and Dream Builders team members are zero, and you will personally experience the benefits of what you contribute to creating, as will the generations who follow us at UUFSD. Now that is one great deal!
John Sherman, Chair – Dream Funders Task Force
We need more office space – February, 2016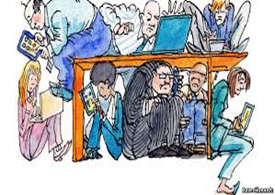 Perhaps the image to the right is a bit of an exaggeration, but certainly our administrative office space needs to be expanded. We have a new position, Membership Director, filled by Kay, who finds space wherever she can. Chris, our Music Director, uses the meeting table at the back when she can, but Alison, our wonderful Director of Religious Education, has the greatest need. One of the most moving services this author has attended, in eight years as a member, was a Bridging Service, in which children celebrated moving to the next phase in their lives. One by one, they thanked Alison for all she had done for them, her wise counseling to them in times of need, sometimes just listening and offering a hug, other times gently guiding them toward a sound decision during an emotional crisis.
Yet Alison doesn't have a private office! She found places on campus, a bench, or a quiet place to walk, or took a child to lunch, all because she didn't have a private office in which to offer listening and counseling. Our religious education program has more students than the sum of those in the rest of the UU congregations in our cluster. It is time our Director of Religious Education has her own office.
Since the planned Phase 2 administration building, shown in the Capital Campaign brochure, is postponed to some time in the future, the expansion of the current office building will help with our current needs. Rev. Meghan will be our speaker this Sunday, on the subject.
Reminder: Dream Funders will hold a question and answer session, in Founders' Hall, following second service this Sunday, Feb. 14. We will do our best to answer your questions.
On Saturday, we will be mailing, to all members and pledging friends: a cover letter, commitment form, form for automatic withdrawal from checking or debit accounts, and the priority survey form. This is our last of our newsletter articles on the six goals of our capital campaign. They will be added to the website for your review.
One final thought: Those of us here today, have the unique opportunity to leave an enduring legacy, for ourselves and all those who will walk our campus in decades to come. It is our time to step forward and with our generosity create our legacy.
John Sherman, Chair – Dream Funders Task Force
Capital Campaign Clarifications -February, 2016

We have received some questions regarding the commitment and priority survey forms you have recently received, and this is will hopefully answer them.
In the numerical assignment of a priority, is "1" the highest or lowest priority?
Answer: "1" is the highest priority (think "1" for "first") and "6" would be the lowest. Please assign a number, from 1 to 6, for each of the six goals, and do not duplicate numbers (no ties please).
I already turned in my commitment form some time ago. Do I need to do anything now?
Answer: Yes, we still need your priority survey form. We need to make sure that everyone's desires are reflected in the final determination of the priority of the projects. Here's an easy link to the online priority survey form: http://bit.ly/20doDFz Just link to it, enter your choices, and click on the "submit" button, and you're done!
There are two of us in our household, and we differ on the priorities, but we received only one form. How can we resolve that?
Answer: Each pledge household received one commitment form and priority survey form. You will have to discuss your priorities between you and come to an agreement.
Our household does give to the annual pledge drive, but we plan to not give to the capital campaign. Do you still want us to return a priority survey form?
Answer: Yes, we would still like to know your priorities. You are a member, or pledging friend, in good standing, regardless of whether or not you give to the capital campaign. You are part of our UUFSD community, and you will be living with the results of the choices we make. Therefore, you should have a say in those choices, so please return the priority survey form.
Please email John Sherman with any additional questions that you may have in filling out the commitment and priority survey forms, and please return your commitment forms to the office as soon as possible, or bring them on Sunday, and bring your survey forms as well, or use the online link, given above, to submit them.
Thank you,
John Sherman, Chair – Dream Funders Task Force
Time for an Intermission -March 13, 2016

The Capital Campaign is taking an intermission, as we step aside for the Annual Pledge Drive, beginning this Sunday, March 13. Please get your commitment forms and priority survey forms to us no later than Sunday, when we will compile the results and turn them over to the Dream Builders team.
The link to the commitment and authorization for auto-withdrawal forms are on the UUFSD website at:
https://uufsd.org/wp/wp-content/uploads/2014/07/CapitalCampaignCommittment.pdf
https://uufsd.org/wp/wp-content/uploads/2014/07/AuthorizationForm.pdf
These forms should be printed and sent to the office, attention of Capital Campaign or handed in on Sunday.
The Priority Survey form may be done online at http://bit.ly/20doDFz. Just link to it, enter your choices, click "submit", and you're done! Remember that "1" is for your top priority and "6" for your lowest, and please don't repeat rankings, but provide six separate rankings.
The current priority ranks are:
1 Amphitheater shade
2 Office expansion
3 Founders' Hall – east side seating
4-6 The kiosk/bathrooms, parking, and Founders' Hall partitions follow so close together that a single individual could change their order. Truly, every survey form counts!
And every dollar counts as well. The hammerhead turn-around in the parking lot will be required for the amphitheater work, and if that's done, extra parking spaces will be done along with it, but the kiosk/bathrooms, and partitions in Founders' Hall will need more financial commitments in order to be scheduled.
Please take this once in a generation opportunity to help Fund and Build our Future.
Return commitment and survey forms no later than this Sunday, before the Annual Pledge Drive begins.
Thank you,
John Sherman, Chair – Dream Funders Task Force
Caroline DeMar, Dream Funders Task Force