Hunger
Education
Homelessness
Other
---
Hunger
Community Resource Center Food Pantry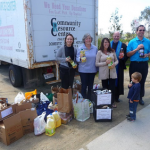 Every Thursday from 10am until 12:30pm, UUFSD members volunteer at the Community Resource Center (CRC) in downtown Encinitas, where we serve individuals and families in need of food assistance. Volunteer activities include helping CRC clients "shop" for food and household items from the client center's pantry shelves, distributing fresh food from the refrigerated section, re-stocking shelves, and helping unload/sort incoming donations of food and household items. No need to make an ongoing commitment – we're in need of occasional volunteers, especially during the holidays. No experience necessary!  To sign up or for more information, please visit our Sign Up Genius page at http://www.signupgenius.com/go/409054fa8a823ab9-volunteering or contact Susan Miller at CRC@uufsd.org.   No experience necessary!
San Diego Food Bank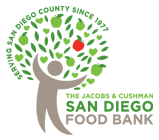 On the 1st Thursday of each month we volunteer at the San Diego Food Bank in the Miramar area; just 20 minutes from UUFSD! It's always from 6:00 – 8:00 PM – anyone over 7 years old can help! Mostly we just put food in boxes on an assembly line – really easy, no lifting, no bending, great camaraderie. This is a wonderful way of helping locally those in need and strengthening our UUFSD community as well. The San Diego Food Bank distributes over 20 million pounds of food annually to individuals, families and a network of nonprofit organizations that work to alleviate hunger throughout San Diego county. They need our help! For more information contact Sara Ohara at sara@SaraOhara.com
Education
Back To School Backpack Project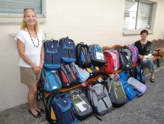 This is a yearly project.  Backpacks and donations of school supplies are collected from July through August. Our goal is to collect at least 50/60 backpacks and fill them with supplies. The backpacks are distributed to the for the children in the Battered Women's Shelter, Stand-Up for Kids a homeless teen program in Oceanside, and in several Colonias in Tijuana Mexico.  For information on how to assist in this project, contact Liv Walsh or Liz Young at  backpacks@uufsd.org
GUN VIOLENCE PREVENTION
The GVP group meets each Sunday between services to keep abreast of GVP issues. We plan and conduct continuing events that support Gun Violence Prevention initiatives. These include a December Candlelight Vigil, in conjunction with Faiths United, the Brady Campaign, and the Newtown Foundation, as part of the Sabbath Weekend in support of GVP. We keep the Fellowship aware, on a monthly basis, of issues and action items related to legislative campaigns on GVP. We plan and bring issues to the Fellowship, in solidarity with our partner organizations, in support of GVP actions. Our "Everytown for Gun Safety" campaign with an image-supported message to members of congress is an example of that activity. Our partner organizations are the Brady Campaign to Prevent Gun Violence, The Newtown Action Alliance and Everytown for Gun Safety.  For more information contact Steve Bartram at GVP@uufsd.org
Human Rights Task Force
The Human Rights Task Force holds information/educational orientations on human rights issues. We partner with  a broad number of organizations involved in immigration, race relations, GLBTQ, and world affairs.  Some human rights initiatives include support for immigration reform and education, the global refugee crises, Palestinian rights and wage equality among others.  If you are interested in participating in this project please contact Liv Walsh or Nancy Harmon at immigration@uufsd.org
Homelessness
Interfaith Rotational Shelter Project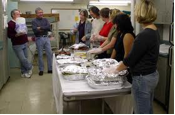 The Interfaith Rotational Shelter Project has been a UUFSD tradition for over 25 years. Each fall, we are a supporting congregation to St. James Catholic Community across the freeway in Solana Beach. During one full week, our Fellowship hosts up to 12 people who are homeless and in a case management program through the Community Resource Center in Encinitas whose goal it is to help guests find work and an affordable living situation.  We provide overnight chaperones and cooking teams who care for the guests. This project is a great example of an interfaith partnership and we have always found it to be gratifying for all volunteers If you would like to learn more about this program, contact Kevin West at shelter@uufsd.org.
Casas de Luz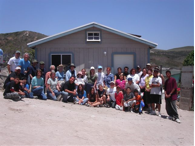 Cases de Luz brings volunteers together with families in need to build houses and community centers in Mexico. The families selected for a home build have the rights to the land, a minimum of three children, and a weekly income of less than $100.  The cost of the materials for these homes is paid for through fundraisers and UUFSD offerings in Sunday services.  Volunteer builders from ages 8 to 80 arrive in Mexico early on Saturday to help construct these pre-planned homes, with the help of a few skilled workers from both sides of the border.  The Casas de Luz program provides ongoing support for these families in the form of education for the children and additional donations of food, clothing, and special needs items, such as a wheelchair. The program incorporates UUFSD initiatives, such as recycling of materials (windows, appliances, doors); donations of used items that can be put to good use rather than filling up our land fills.  For more information contact Kathy Faller at casasdeluz@uufsd.org
Other
Climate Action & Environmental Justice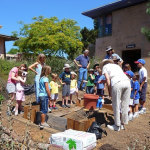 Climate Action & Environmental Justice meets regularly at UUFSD to find ways to support ongoing green activities within the congregation and to expand them. The UUFSD strategic plan aspires to "make the UUFSD campus a living laboratory in the education, practice, and promotion of sustainable design and living." The near-term goals of our group are to create more visibility for green issues by expanding information on our web site and to explore programs within the Unitarian Universalist Association, such as Green Sanctuary, that could guide and strengthen our efforts locally. View our Green Reading List HERE. For more information please contact Scott Thacher or John Atcheson at EJTF@uufsd.org

Interfaith CENTER for Worker Justice
The mission of the ICWJ is to educate and mobilize San Diego's religious and faith communities to raise awareness and support campaigns that sustain worker's lives with dignity, improving wages, benefits, working conditions and a voice on the job.  The Center has involvement from many faiths.  Faith leaders participate alongside low-wage workers, such as janitors and hotel housekeepers who are trying to obtain justice in the workplace and the ability to support their families.  The Center supports the voices of the low wage workers by writing letters, meeting with workers and management, participating in delegations, witnessing negotiations   and sponsoring vigils, events and programs.  For more information contact Bev Connor at ICWJ@uufsd.org
Veteran Appreciation Project
The SAC organizes the preparation and distribution of greeting cards to veterans at the Veterans Administration Hospital during the Holidays. In addition members of the congregation participate in providing supportive services to veterans through the VA Hospital.This activity is undertaken with the RE YRUU children.
Contact: sac@uufsd.org
Day Laborer Lunch Project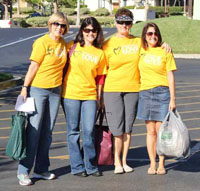 Our Day Laborer Lunch Program was launched in October, 2013.   On the first Saturday of each month we distribute lunch bags to day laborers.  Included in the bags is information on the rights and responsibilities of undocumented workers. We encourage our members and those families with children to help in the preparation of approximately eighty lunches and in their distribution. While the ability to speak Spanish is not necessary to participate in the project we do encourage those who speak Spanish to join us. For additional information on this project please contact  Livia Walsh or Nancy Harmon at  immigration@uufsd.org