John & Judy Sherman & Betsy bagged 866 lbs of pears for distribution for those in need in San Diego – in just 2 hours!

Our group also bagged 3,464 lbs of plumbs!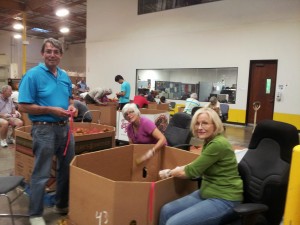 Anyone over 6 years old can help! Our next volunteer night will be Wednesday Oct. 22. Usually we just put food in boxes on an assembly line – really easy, no lifting, no bending, great camaraderie. This is a wonderful way of helping locally those in need and strengthening our UUFSD community as well. The San Diego Food Bank distributes over 20 million pounds of food annually to individuals, families and a network of nonprofit organizations that work to alleviate hunger throughout San Diego county. They need our help! Email Sara Ohara at sara@saraohara.com if you're interested in joining us.