The Unitarian Universalist Fellowship of San Dieguito (UUFSD) will host a candlelight vigil in Solana Beach on December 13, 2015, from 5:00 – 6:00pm as part of the national gun violence prevention Sabbath weekend sponsored by Faiths United Against Gun Violence and the Newtown Action Alliance in memory of gun violence tragedies. Faith leaders and elected officials will stand united with members of the community in a commitment to reduce gun violence here and across the nation. The program will include a candlelight procession, brief remarks, music, and reflection. This is the second annual vigil held at UUFSD.
For further information please contact us at GVP@uufsd.org.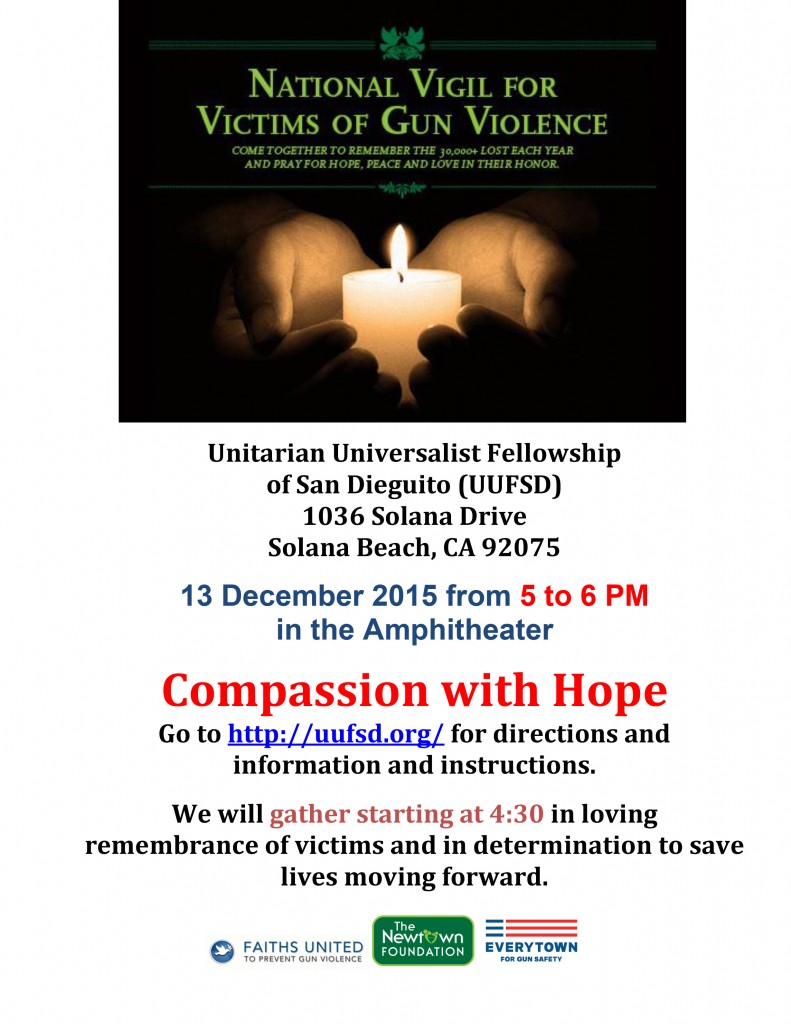 Please arrive between 4:30 and 4:45. Dress warmly. Last year it was cool.
In the event of bad weather (rain) we will be inside Founders Hall.
The theme for this vigil is "Compassion with Hope". As we move into a
greater sense of change in the attitude of all people for gun violence
prevention we need to remember the voices of our hearts yet focus on what
we can do and stay active in our efforts for change.
Please go to the page: "What Can I Do?" and use this to help support your
journey.
California is clearly focused and supportive of strong GVP policy and law.
We now need to support the nation and focus on bringing an end to gun
violence as we continue to work for change in so many areas in need of
social change.
Bring your singing voices.
I look forward to hearing your story and hope we can journey together and
someday have a vigil of peace, not of remembrance.
Remember: What Can I do? (.DOC)
Download poster for vigil (.PDF)
For more information, contact Rev. Meghan Conrad Cefalu, Interim Minister, UUFSD
Steve Bartram, San Diego Brady Campaign Board Member