Best Exotic UU Auction
Saturday, May 16, 5:30 p.m. until the music stops!
Founder's Hall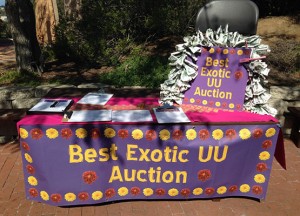 Mark your calendars for Saturday, May 16, when you can delight your senses with a journey to the Best Exotic UU Auction, featuring food and decorations that capture a South Asian, colorful, whimsical spirit. Join us in Founder's Hall at 5:30 p.m. for an evening of enticing eats and alluring auction items, including fantastic dinners, gift certificates, tickets, raffles, trips …. you name it. Feel free to dress to fit the theme!
After the pledge drive, the auction is our most important fundraising event. Its success depends on having great auction items to bid on (dinners and gift certificates are highly desired). We ask you to solicit contributions from yourselves, businesses and organizations you patronize, friends who have businesses, and places you'd like to win prizes from. Each person or committee donating an event/dinner, a merchant donation, a gift basket, or a sponsorship will receive a free raffle ticket. The group or person providing the most donations will get a special prize and our eternal gratitude.
What makes a good auction item?
Gift certificates to restaurants (dinner for two), movie theater or other entertainment gift cards, certificates, or ticket vouchers. Sea World, Lego Land, Disneyland, Knott's Berry Farm, etc.
Gift certificates for services (dry cleaning, tax preparation, attorney time, consultation services, car wash/repair, haircuts, massages, manicures/pedicures, etc.), and fast food restaurants.
Retail gift certificates: Home Depot, Target, nurseries, Trader Joe's, Henry's, sporting goods, etc.
Classes for yoga, languages, arts, dance, etc. Kids classes/activities.
Dinners/events offered by members – whether a casual cookout for 4 or a fancy dinner for 8, social gatherings are great opportunities for us to get to know each other better.
To submit a donation online, visit bit.ly/uuauction2015.

The donation form is also available for you to enter the information electronically by scanning the QR code to the left. Free QR code readers are available for use on smartphones through the Ap Store.
Entering the information online saves a lot of work for the Auction Team!
For a printable form, click HERE.
HERE is a merchant letter you can give to merchants you frequent, explaining our auction and soliciting a donation.
HERE is a receipt you can give to anyone providing a donation.
This year we are also offering sponsorships of $50 or $100 in exchange for an advertisement in our auction brochure. Click HERE for a sponsorship form.
Our donation kit also includes a Membership Map and two IRS letters showing UUFSD's nonprofit status HERE and HERE.
You can also pick up hard copies of all these materials on the patio or in the UUFSD office.
For more information, email Tiffany Fox at tiffanymfox@gmail.com