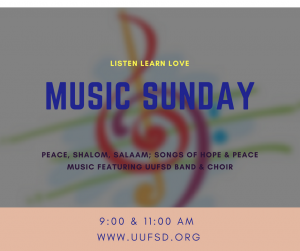 Many have long held space for peace, working for it in their own way. On Music Sunday we'll lament our place in history where peace is a dream and conflict remains. And we will vision and affirm our united purpose — a world of peace.
All over the world and throughout history, parents have expressed hope and intention for a peaceful world for their children. The choir will sing two lullabies accompanied by cello from the song collection "Lullabies From the Axis of Evil", including one from Iraq titled, "Peace to the world, peace to my country, my love" and a traditional Sufi song with text by mystic and poet Abu Abdillah Muhammad. Other selections include "Learn War No More" and a Hebrew folk song
From American John Mayer, the UUFSD Band will perform"Waiting for the World to Change," which speaks of our frustration over barriers to changes we desire. Another selection, from Keb' Mo' and Taj Mahal, makes the celebratory statement, "There'll be peace and understanding all around the world."
We look forward to sharing this musical worship experience with you.