Map Unavailable
Date/Time
Date(s) - 05/17/2018
7:00 pm - 9:00 pm
Location
UU Fellowship of San Dieguito
Categories No Categories
Join the Tibetan monks from the Gaden Shartse Norling Monastery for a special ceremony titled "Empowerment for Manjushri, the Buddha of Wisdom" at 7:00pm in Founders' Hall. Suggested donation $20.
Wisdom is crucial for enlightenment. If we lack wisdom, we will make many mistakes that will cause hardship and pain for ourselves and others. Therefore, wisdom is our real inner wealth. Everyone is welcome to attend this blessing empowerment to make a strong connection with the Wisdom Buddha and to accelerate the attainment of the knowledge that eliminates suffering.
There will be the transmission of the mantra oṃ a ra pa tsa na dhīḥ In Tibetan tradition, this mantra is believed to enhance wisdom and improve one's skills in debating, memory, writing, and other literary abilities. "Dhīḥ" is the seed syllable of the mantra and is chanted with greater emphasis and also repeated a number of times as a decrescendo.
SACRED ARTS OF TIBET TOUR with The Monks of Gaden Shartse Norling Monastery
UUFSD is honored to host the monks of Gaden Shartse Norling Monastery, South India, during the week of May 16-20, for a Sacred Sand Mandala Creation. This ancient two dimensional Tibetan Buddhist mandala is the most artistic, labor-intensive and concentration-intensive of all mandalas created. For a full list of events, visit uufsd.org/sandmandala.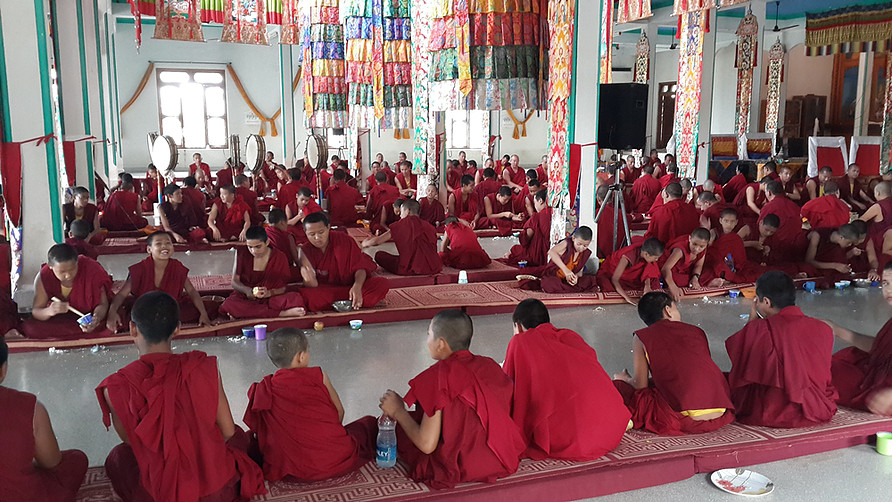 About Gaden Shartse Monastic College
Gaden Shartse Monastic College is situated amid lush green hills and jungle in the remote countryside of southern India. It was founded in 1969 as an effort to re-establish one of the great monastic traditions of Tibet. A small group of elder monks and fifteen young boys, all of whom had managed to escape the destruction in Tibet, settled on land given to them by the Indian government in Mundgod, Karnataka. Today the college is at the forefront of the revival of Tibetan Monastic education, with more than 1600 resident students, teachers, scholars, and spiritual practitioners. Due to the success of the academic program and the quality of the teachers at the monastery, Gaden Shartse has established a reputation as being the leader in the field of Buddhist and Tibetan studies.