Map Unavailable
Date/Time
Date(s) - 05/18/2018
7:00 pm - 9:00 pm
Location
UU Fellowship of San Dieguito
Categories
Clergy of five faiths will dialogue about working for justice and peace at this momentous time – 7:00pm in Founders' Hall. All are welcome.
The representatives will speak together about how we may heal and traverse this divisive moment and be buoyed up by the voices of peace and justice. Everyone is welcome to this dialogue of finding meaning and the inspiration to act responsibly and to live up to our potential as faith communities and as citizens of this nation and the world.
About the Panelists
Madison Shockley
Minister
760.729.6311 x207
The Rev. Madison T. Shockley II is the pastor of the Pilgrim United Church of Christ in Carlsbad, CA. He brings to Pilgrim Church a wealth of experience from his work in the religious, political, non-profit, and media environments. Madison was called to Pilgrim Church in 2004.
Along with performing his pastoral duties with Pilgrim, Madison serves on the board of directors of American Civil Liberties Union (ACLU) of San Diego and Imperial Counties and the board of directors of the Religious Coalition for Reproductive Choice. He also writes commentary for various online and print outlets. To read some of Madison's articles, click here.
He holds the Master of Divinity from Union Theological Seminary in New York City and has done advanced graduate work at Claremont Graduate University in New Testament Studies. He is married to Gayle P. Shockley née Welch, and they are the parents of four adult children.
Geshe Lobsang Wangyal
Tibetan monk
Geshe Lobsang Wangyal S/o father Pema Trinline and mother Yama Chotso was born on 17th August,1967 in Simla, India. He attended local school at the age of seven and studied Tibetan and Math until the age of fifteen. He joined Gaden Shartse monastery in 1986 and studied Pramana Vartika (Buddhist Logic science) five years course. Prajna Paramita (The perfection wisdom) five years course. Madhyamika (Buddhist middle way philosophy) three years course. Abhidharma Kosha (Cosmology and Metaphysics) two years course. Vinaya (Monastic discipline and Vows) two years course and accomplished the five major texts of Buddhist studies. He participated in great Gelugpa examination for six years after the completion of all the class level of Gaden Shanse monastery.
He served as a teacher of Buddhist philosophy at Jangchup Choeling Nunnery at Mundgod settlement for two whole years. He received his Geshe degree (Doctorate) in the year of 2003. Besides he received many initiations. empowemtent and oral transmission from His Holiness the Dalai Lama and many root gurus of our monastery including Kyabje Lati Rinpoche, Kyabje Zong Choktrul Rinpoche, Kyabje Kensur Jampa Yeshi Rinpoche, Kyabje Kensur Kunchok Tsering Rinpoche.
He has experience of teaching Buddhist studies in many western countries for three whole years. Currently he is teaching Buddhist studies at our monastery students.
Rev. Meghan Conrad Cefalu
UUFSD Minister
Rev. Meghan Conrad Cefalu is our settled minister. She brings more than a decade of experience in UUA ministry to our congregation.
Rev. Meghan grew up in Northern California. She has served UU congregations ranging in size from 30 to 450 members and in places as diverse as rural Kansas and Missouri, Grass Valley, CA and the Boston suburbs. She studied psychology before earning her Masters in Divinity from Starr King School for the Ministry in Berkeley. She loves good food and wine, hearing live music, engaging in stimulating conversation and watching her sweet dog run on the beach.
Imam Taha Hassane
Imam Mohamed Taha Hassane is currently serving as the Imam/Director of the Islamic Center of San Diego. He joined ICSD in September 2004 from the Colorado Muslim Youth Foundation where he served as a youth instructor.
Imam Taha graduated from Institute of Islamic Studies at the University of Algiers, Algeria, and served as a high school teacher and Imam in Ténès, Algeria for ten years before coming to the United States. Imam Taha also holds a Master degree of theology in Islamic studies from the Graduate Theological Foundation in South Bend, Indiana.
In addition to his regular duties at ICSD, Imam Taha is a:
Preacher & lecturer at different Islamic Centers, schools, colleges, Churches, and synagogues around the US and abroad (Canada, Mexico, and Kuwait)
Religious adviser of the Muslim Students Association at University of California San Diego since 2004.
Board member of the Interfaith Center for Worker Justice of San Diego County since 2005.
Board member of the Interfaith Worker Justice, based in Chicago, IL.
Member of the west coast Catholic-Muslim dialogue since 2006.
Chairman of the Islamic advisory Board of the San Diego Police Department
Member of the Interfaith Advisory Board of the San Diego District Attorney Office.
Former Vice Chairman of the Islamic Shura Council of Southern California.
Volunteer Chaplin at San Diego prisons & hospitals.
Recipient of several awards: 2010 Voices of Justice Award by the Interfaith Center for Worker Justice
2011 Community Leadership & Social Justice Advocacy Award by CAIR San Diego
2014 Outstanding Contribution Award by the Indian-American Muslim Council
2015 A Major Peace Maker Award in San Diego by the Rotary Club of La Jolla
2015 Spirit Award by the Somali Family Services
Also recipient of Certificate of Recognition from: California Assembly Member Lorena Gonzales, California Assembly Member Shirley Weber, San Diego City Councilmember Marti Emerald, and the City of San Diego Human Relations Commission.
SACRED ARTS OF TIBET TOUR with The Monks of Gaden Shartse Phukhang Monastery
UUFSD is honored to host the monks of Gaden Shartse Norling Monastery, South India, during the week of May 16-20, for a Sacred Sand Mandala Creation. This ancient two dimensional Tibetan Buddhist mandala is the most artistic, labor-intensive and concentration-intensive of all mandalas created. For a full list of events, visit uufsd.org/sandmandala.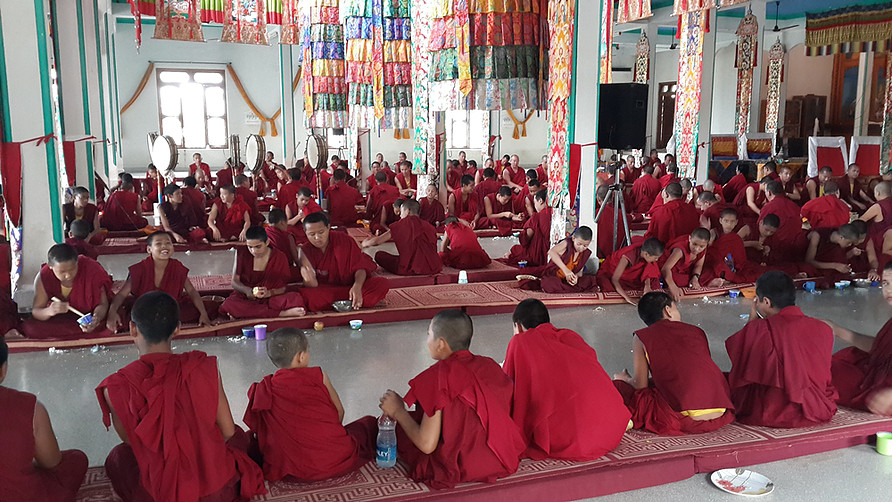 About Gaden Shartse Monastic College
Gaden Shartse Monastic College is situated amid lush green hills and jungle in the remote countryside of southern India. It was founded in 1969 as an effort to re-establish one of the great monastic traditions of Tibet. A small group of elder monks and fifteen young boys, all of whom had managed to escape the destruction in Tibet, settled on land given to them by the Indian government in Mundgod, Karnataka. Today the college is at the forefront of the revival of Tibetan Monastic education, with more than 1600 resident students, teachers, scholars, and spiritual practitioners. Due to the success of the academic program and the quality of the teachers at the monastery, Gaden Shartse has established a reputation as being the leader in the field of Buddhist and Tibetan studies.