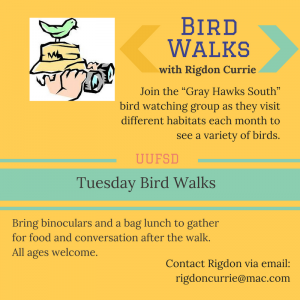 Good News! Rigdon Currie is now leading his popular bird walks once a month. These nature walks are at an easy pace with frequent stops to admire birds.
The newly named "Gray Hawks South" bird watching group will likely go to different habitats every outing to see greatest variety of birds.
Next walk is Bataquitos Lagoon, Tuesday, March 29th.
Bring binoculars. Need to borrow a pair? Let Rigdon know. Cell phones, water and sunscreen strongly suggested.
If interested, please bring a bag lunch to gather for food and conversation after the walk.
Tuesdays with Rigdon
Upcoming Tuesday bird walks:  March 28th. April 25, Tuesday, May 30, and June 27.
Questions? Contact Rigdon via email rigdoncurrie@mac.com.
*all ages welcome to join an activity