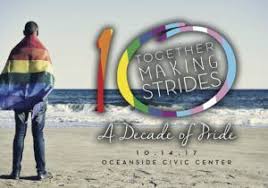 Pride by the Beach is celebrating its 10th year on Saturday, October 14 from 11AM – 5PM. The festival will be held in the Oceanside Civic Center.
This festival has grown from an event of 800 people to over 6000 people and we encourage all to come out, participate, and celebrate this year. Proceeds from this event help support the North County LGBTQ Resource Center in Oceanside, and a large percentage of the money raised from the event funds the Project Youth Fund.
If you are interested in volunteering at our table at the event please stop by the SJA committee table to sign up for a shift.
For more information, visit http://www.northcountypride.com/