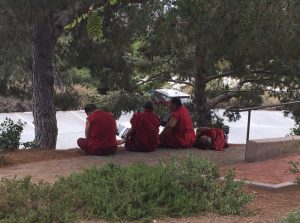 The Gaden Shartse Monks will pay UUFSd a special visit on Friday, October 13, from 10-11:45 am.
They will be speaking on "Meditations on Patience and Compassion: 6 Perfections Ethics, Patience, Effort (Joyful Perseverance), Concentration, Wisdom, Generosity."
For those who arrive at 9:00 am, there will be a progressive relaxation and sitting practice. Then at 10 am the monks and other practitioners will arrive for this meeting. We will have lunch and then practice walking an sitting meditation until 2 pm. As always, guests are welcome for any portion of the day. Please bring cushions and lunch.
Note: The Gaden Shartse Monks will return to UUFSD from May 15-20, 2018 to construct a sand mandala of Manjushri, the embodiment of Wisdom.