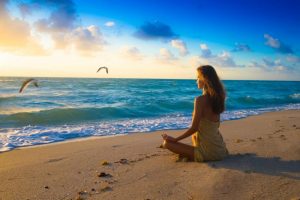 It was a pleasure to host a small group of members (and potential members) at Moonlight Beach in Encinitas on Monday, July 24th for a Monday Morning Meditation, followed by a light continental breakfast.
After lighting our beach-friendly chalice we enjoyed the nay so relaxing sounds of…lifeguard whistles and shrieking, giggling children?!? We quickly discovered our Monday Morning Meditation coincided with the first day of surf camp! The sounds added to the celebratory feeling of gathering together outside of Sunday service…and we enjoyed the energy being supplied by the happy, hopeful mini-surfers as we took a brief walk along the beach in our own shared silence.
The Membership Engagement Team (MET) will host another Monday Morning Meditation & Mixer including Continental breakfast on October 9th at 8:30. Moonlight Beach. We will meet at the outlook on the upper area (south of parking lot). Fresh fruit, farm eggs and juice will be served. Contact Adrienne at Adrienne@uufsd.org to RSVP or to co-host our next event.