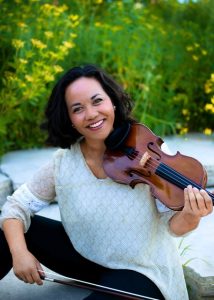 On Wednesday, December 20, 2017, from 7 – 8:30 pm, enjoy Holiday Gift to Music Lovers, a free concert.
Violinist Anna Lyn Galura, accompanied by Kyle Adam Blair on the piano, will perform:
Violin Sonata No. 3 in D Minor – Johannes Brahms
Partita No. 3 in E Major – Johann Sebastion Bach
Concerto No. 5 – Henri Vieuxtemps
Galura began playing violin at age 7, and has performed internationally with prestigious orchestras and music festivals. Recent engagements include the Spoleto USA Festival, and as resident artist in the American Institute of Musical Studies in Graz, Austria. She currently teaches and performs professionally throughout the Charleston, SC area and is a frequent guest artist with the Charleston Symphony Orchestra. She will complete her Bachelor's degree in Violin Performance this academic year, and will audition for graduate studies in Performance and Pedagogy.